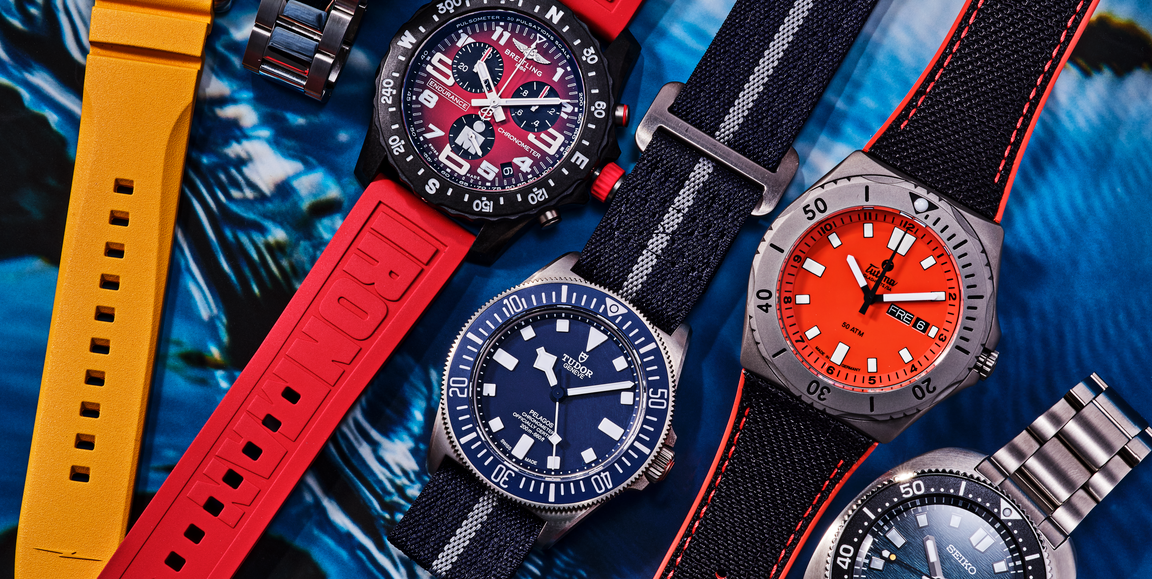 The best summer watches for men to wear in 2022
Too many watches only do one thing: tell the time. So if you're going to invest in a new piece, you deserve more than a portable clock. These modern, multifunctional, gimmicky classics all do double (or triple!) duty.
The diving team
Today's diver-inspired timepieces are stacked with rugged features. You can dive to 1,000 feet, you can measure your time underwater, and you even have a 70-hour power reserve.
Read more: The best dive watches
The accelerator
Named after Formula 1 legend Ayrton Senna, TAG Heuer's special edition watch houses a tachymeter that measures speeds of up to 249 miles per hour. (You know, for corners in Monaco or, uh, Milwaukee.) Its sleek stainless steel case and calfskin strap make it practical for off-race scenarios, too.
The power station
This mechanical watch is made of hard-as-hell ceramic, which is lighter and more scratch resistant than stainless steel, so it will last. Under the hood, the Big Bang has an impressive 42-hour power reserve, which means less winding and more wear and tear…perhaps forever?
The timeless staple
This lean and mean military watch rose to fame during WWII. Bulova updated it with a clean stainless steel case and brown nylon strap that's destined to last another century. Pull the crown to activate its hack function, which allows you to stop the watch's hour, minute and second hands at will to easily set the time.
Read more: Best outdoor watches
The perfectionist
Zenith's new sports watch sports mid-century style, with a classic tricolor design, high-contrast dial, and 41mm diameter that looks great on just about anyone. More than a pretty face, the Chronomaster has tenth-of-a-second timing functionality.
Read more: The best watch brands for men
The battle horse
Alpina's dress pilot watch features a water-resistant stainless steel case that's tough enough for everyday wear. Plus, its beautiful dial shows the hour, minute, second, and date, ensuring you're always on time.
Read more: Best Luxury Watches for Men